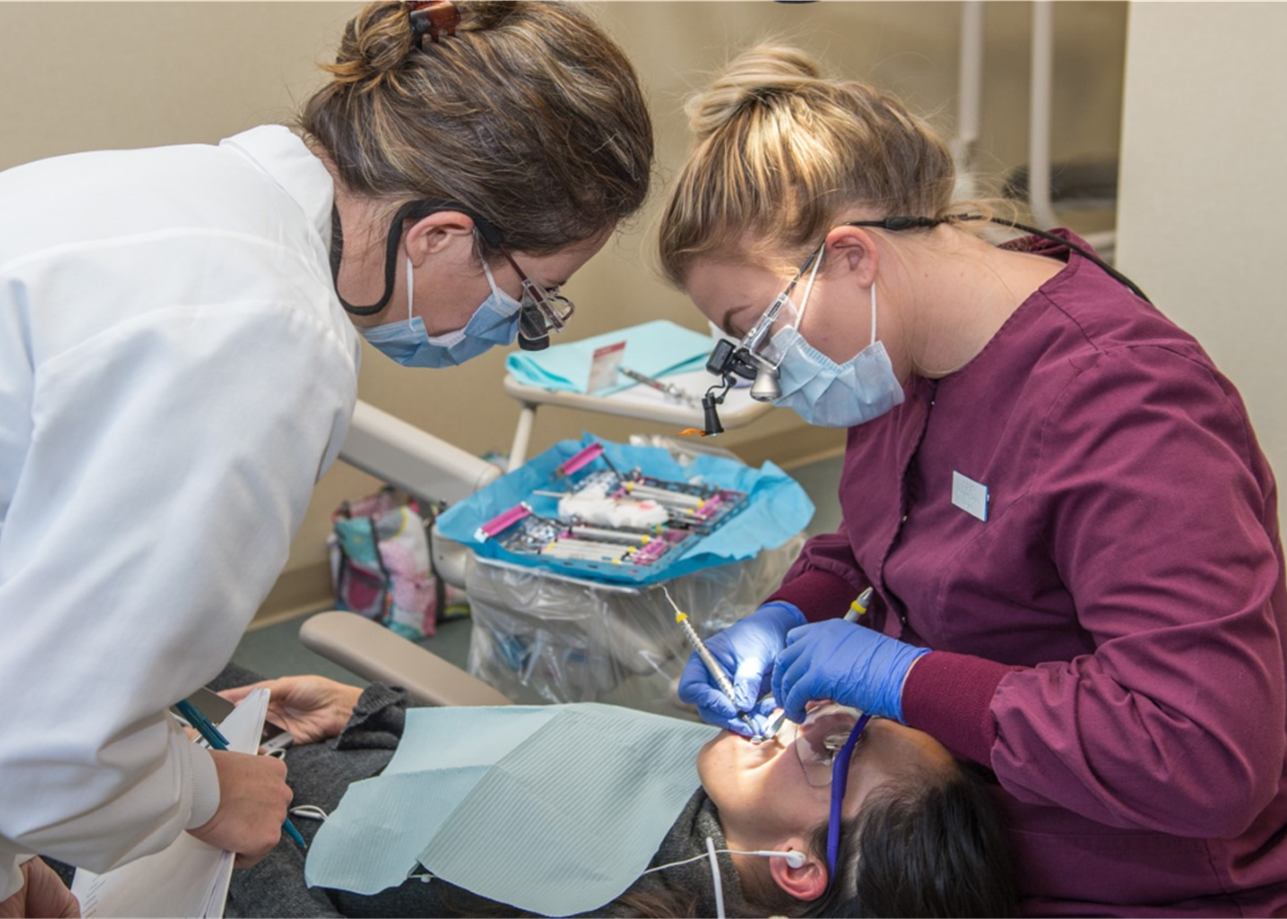 NHTI's Dental Hygiene degree program provides you opportunity to analyze health information and provide clinical services to improve oral and overall health. Established in 1970, this program graduates effective dental hygienists who enjoy rewarding, successful careers serving patients and populations in N.H. and beyond. NHTI offers the only dental hygiene program in N.H., providing excellence in dental hygiene education. You are prepared with the skills and knowledge required of professional dental hygienists.
NHTI Dental Hygiene students experience high success rates on national written and clinical board exams, positive interactions with community health agencies, and excellent preparation for licensure and clinical practice. Our curricula provides close clinical supervision with individual and small-group instruction, transferability of general education courses, and integration of current technology into education and clinical practice. ADED courses can only be taken by students who have been accepted into the Allied Dental program.
The NHTI Dental Hygiene program:
Provides a curriculum that integrates general education, biomedical sciences, dental sciences, and current dental hygiene theory, practice, and provision of dental hygiene care
Prepares students to think critically and implement the dental hygiene process of care to promote and maintain oral and systemic health for diverse populations
Prepares students to exercise principles of professional, regulatory, and ethical behavior in oral healthcare

Prepares students to commit to professional growth and learning to maintain compliance and competence through self assessment and evidence-based decision-making in an evolving healthcare system
Download the Dental Hygiene Mission, Goals, and Competencies PDF. 
Do you have questions? Contact Lisa Scott, department chair, at lscott@ccsnh.edu or 603-271-6484 x4141.
Admission Requirements
Apply for this program today on our Admissions page with step-by-step instructions and enrollment pathways build just for you!
Priority consideration will be given to students whose applications are complete and received by the Admissions Office by January 27, 2023, for the Fall 2023 semester. For the 2024 academic year, the deadline is Jan. 26, 2024. Applicants are required to have:
College preparatory level courses in Biology and Chemistry, with labs, with a C or higher
High school Algebra I or NHTI's MATH092C with a C or higher
Informational group interview with the Dental Admissions Committee; qualified candidates will be contacted to schedule this interview after the application deadline.
Observation of professional practices in a dental office for a period of not less than 20 hours; students must submit the completed Dental Hygiene Observation Form to the Admissions Office by the application deadline. The completed observation is valid for 2 years only. Current dental office employees are not required to complete the hours of observation but are required to complete and submit the observation form.
Admission to the Dental Hygiene program is competitive. Selection is determined by a cumulative point system based on high school prerequisite courses and grades, and college courses and grades, in addition to the observation/essay and interview. The best qualified candidates will be invited to interview; interviews are limited to approximately double program capacity. 
Only courses completed (with final grades) by the application deadline will be considered for points in the application review process. Double points are awarded for college science course grades (Anatomy & Physiology I and II, Microbiology, and Introduction to General, Organic, and Biochemistry). These science courses must be completed with a C or higher and no more than 5 years prior to the start term of the program to be applicable. Courses with virtual/online labs are not accepted, except for labs completed online in 2020-21 due to COVID-19.
Applicants for the Dental Hygiene program are encouraged to complete most of their college general education courses in advance of applying to the program to obtain a sufficient number of points to be competitive.
Already Enrolled at NHTI?
Students currently who wish to enter the Dental Hygiene program must complete and submit the Change of Program form prior to the application deadline and submit it to the Admissions Office at NHTIadmissions@ccsnh.edu. 
Readmission
Students who have withdrawn from the program or have been suspended from the program because of a failure in a non-clinical course may be considered for readmission only one time. Readmission is not guaranteed. Students who have been dismissed from the program because of a failure in a clinical course will not be considered but may apply to other NHTI programs. Contact the Allied Dental Education Department for details.
Career Information
Dental hygienists work in clinical, corporate, public health, research, and educational settings. They can serve as program administrators, and some have become successful entrepreneurs, starting their own businesses.
Dental hygienists provide a range of preventive and therapeutic dental services, including dental hygiene assessment and care planning. Services include oral dental and periodontal examination, scaling and debridement, pain management, radiography, dental sealants, in-office whitening, and oral hygiene instruction. Dental hygienists are professionals, licensed by the state in which they practice, who complete extensive educational and clinical preparation in oral disease prevention.
The salary of a dental hygienist depends on the responsibilities associated with the specific position, the practice setting, and the geographic location of employment. Full- or part-time employment and benefits are factors. Dental hygienists earn salaries equal to healthcare personnel with similar training and experience such as nurses.
NHTI encourages students to research the dental hygiene career and connect with local association members. Students may join an association at a reduced rate as a student member. The student chapter of the American Dental Hygienists' Association is an active service organization at NHTI.
NHTI encourages dental hygiene graduates to pursue a bachelor's degree. Our graduates successfully transfer to colleges and universities around the country. Because of the extensive knowledge and skills of dental hygienists, professional organizations are discussing the bachelor's degree as the entry-level degree for dental hygiene.
Additional Information
Program Outcomes
National Board Dental Hygiene Exam (first attempt)
| | | | |
| --- | --- | --- | --- |
| Year | # Students | NHTI | National |
| 2017 | 34 | 100% | 94% |
| 2018 | 25 | 96% | 94% |
| 2019 | 30 | 97% | 92% |
| 2020 | 29 | 100% | 90% |
| 2021 | 29 | 97% | 87% |
| 2022 | 21 | 95% | 86% |
| 2023 | 21 | 100% |   |
ADEX Patient Treatment Clinical Exam (first attempt)
| | | |
| --- | --- | --- |
| Year | # Students | NHTI |
| 2017 | 34 | 100% |
| 2018 | 25 | 96% |
| 2019 | 30 | 97% |
| 2020 | 29 | 100% |
| 2021 | 29 | 93% |
| 2022 | 21 | 86% |
| 2023 | 21 | 100% |
Accreditation
The NHTI Dental Hygiene program is accredited by the Commission on Dental Accreditation and has been granted accreditation status of "approval without reporting requirements." The Commission is a specialized accrediting body recognized by the United States Department of Education and can be contacted at 312-440-4653 or 211 East Chicago Avenue, Chicago, IL 60611.
Background Check and Drug/Alcohol Testing
As a pre-clinical requirement, students will complete a criminal background check and drug and alcohol screening through agencies chosen by the program. Students are subject to random screenings throughout the program without exception. Students learn procedural and cost information during the admissions process and are responsible for associated testing costs.
Bloodborne Pathogens and Infectious Diseases
Dental Hygiene students may be exposed to blood-borne pathogens and infectious diseases. Faculty provide students with theory and instruction on infectious diseases, mechanisms of disease transmission, and infection control procedures to reduce the risk of disease transmission. Current instruction includes protocols published by national public health agencies, the Occupational Safety and Health Administration, and the U.S. Centers for Disease Control and Prevention.
Health Requirements
Once admitted, students must provide documents for clinical clearance to the Health Services Office by the deadline. Failure to do so will prohibit them from entering the program. Students must maintain clinical clearance throughout the program to remain enrolled and progress in the program. For a complete list of immunizations and clinical clearance requirements, refer to the Allied Health Students tab on the NHTI Health Services webpage. NHTI arranges professional liability insurance for students, applying fees to student accounts.
Health, Character, and Technical Standards
Dental Hygiene students must demonstrate the knowledge, skills, and behaviors deemed essential for the practice of dental hygiene. The program adheres to the NHTI Statement of Nondiscrimination. Reasonable accommodations for students with disabilities are made to the extent that there's no fundamental alteration to curriculum, course objectives, or health, character, and technical standards of the program. Students need:
Intellectual abilities requiring reason, analysis, problem solving, critical thinking, self-evaluation and lifelong learning skills are required. Students must be able to learn, integrate, analyze, and synthesize data. Comprehension of three-dimensional and spatial relationships is necessary. Consistent, accurate, and quick integration of information is required, especially in emergency situations.
Somatic sensation and functional use of all senses is required. Exteroceptive (i.e., touch) and proprioceptive (i.e., position, pressure, movement) is mandatory. Students must also be able to observe demonstration at a distance and close at hand; performance of procedures in the classroom, lab, and clinic is required. Students must be able to see fine detail, focus at several distances, and discern variations in color, shape, and texture to differentiate normal and abnormal structures. Students must be able to use tactile sense to perceive and interpret vibrations associated with clinical procedures. Visual and intellectual ability is necessary to acquire information from documents such as charts, radiographs, computer images, and other modes of delivery. Students must have sufficient hearing to develop reasonable skills of percussion and auscultation.
Sufficient fine and gross motor function is required to perform a variety of clinical procedures essential to providing dental hygiene care for patients. Examples of essential motor skills include manipulation of small objects and materials, palpation, percussion, auscultation and other maneuvers. Fine motor ability is a critical necessary skill. Gross motor ability is required in order to perform functions such as basic life support, transfer and position of patients as well as the operator position around the patient and dental chair. Students must be able to operate both foot and hand controls.
Students must be able to communicate effectively with patients, peers, faculty, and guests. Individuals must have sufficient command of the English language to retrieve information from textbooks, lectures, exams, etc. Students must be able to communicate in verbal, nonverbal, and written form.
Students must possess the emotional health required for full utilization of their intellectual abilities, exercise of good judgment, and prompt completion of all responsibilities associated with the care of patients. The development of mature, sensitive, professional relationships with patients is essential. Professionalism, compassion, integrity, empathy, and respect for patients are all personal qualities that are necessary for the dental hygienist. Students must be able to endure physically taxing workloads and function effectively under stress. They must be able to accept constructive criticism and respond appropriately by modifying behavior.
Internship Considerations
NHTI's practicum opportunities foster hands-on learning in community dental health. Students develop awareness of the dental hygienist's role in improving oral health while applying knowledge and skills in the NHTI Dental Clinic and various public health settings. Students must demonstrate sufficient emotional stability to withstand the stresses that characterize the dental professionals' responsibilities with patients and/or agency clients. Students must exercise sound judgment, accept direction and guidance from a supervisor or faculty member, establish effective rapport, and maintain sensitive interpersonal relationships and confidentiality on all levels. 
Mission Statement
The mission of the NHTI - Concord's Community College Dental Hygiene program is to advance the mission of the college by providing a learning environment in which each dental hygiene graduate gains the knowledge, skills, and values to provide comprehensive educational, preventive, and therapeutic services reflecting the competencies vital to our community and the profession of dental hygiene.
Program Learning Outcomes
The new dental hygiene graduate must be able to:
Discern and manage the ethical issues facing dental hygiene practice in a rapidly changing environment.
Acquire and synthesize information in a critical, scientific, and effective manner.
Contribute to improving the knowledge, skills, and values of the profession.
Provide planned educational services using appropriate interpersonal communication skills and educational strategies to promote optimal health.
Initiate and assume responsibility for health promotion and disease prevention activities for diverse populations in a variety of settings.
Systematically collect, correlate, critically analyze, and document data on the general, oral, and psychosocial health status for diverse patients using methods consistent with medico-legal-ethical principles.
Formulate a comprehensive dental hygiene care plan that is evidence-based and patient-centered.
Provide specialized care that includes educational, preventive, and therapeutic services designed to assist the patient in achieving and maintaining oral health goals.
Critically evaluate the effectiveness of implemented educational, preventive, and therapeutic services and make modifications as necessary.
Service Learning
Dental Hygiene students apply their skills in the NHTI Dental Clinic, serving more than 7,000 patients. They learn the importance of access to oral healthcare and experience the role of the dental hygienist in community health. The Community Clinic course places students in public health settings where they shadow dental hygienists.