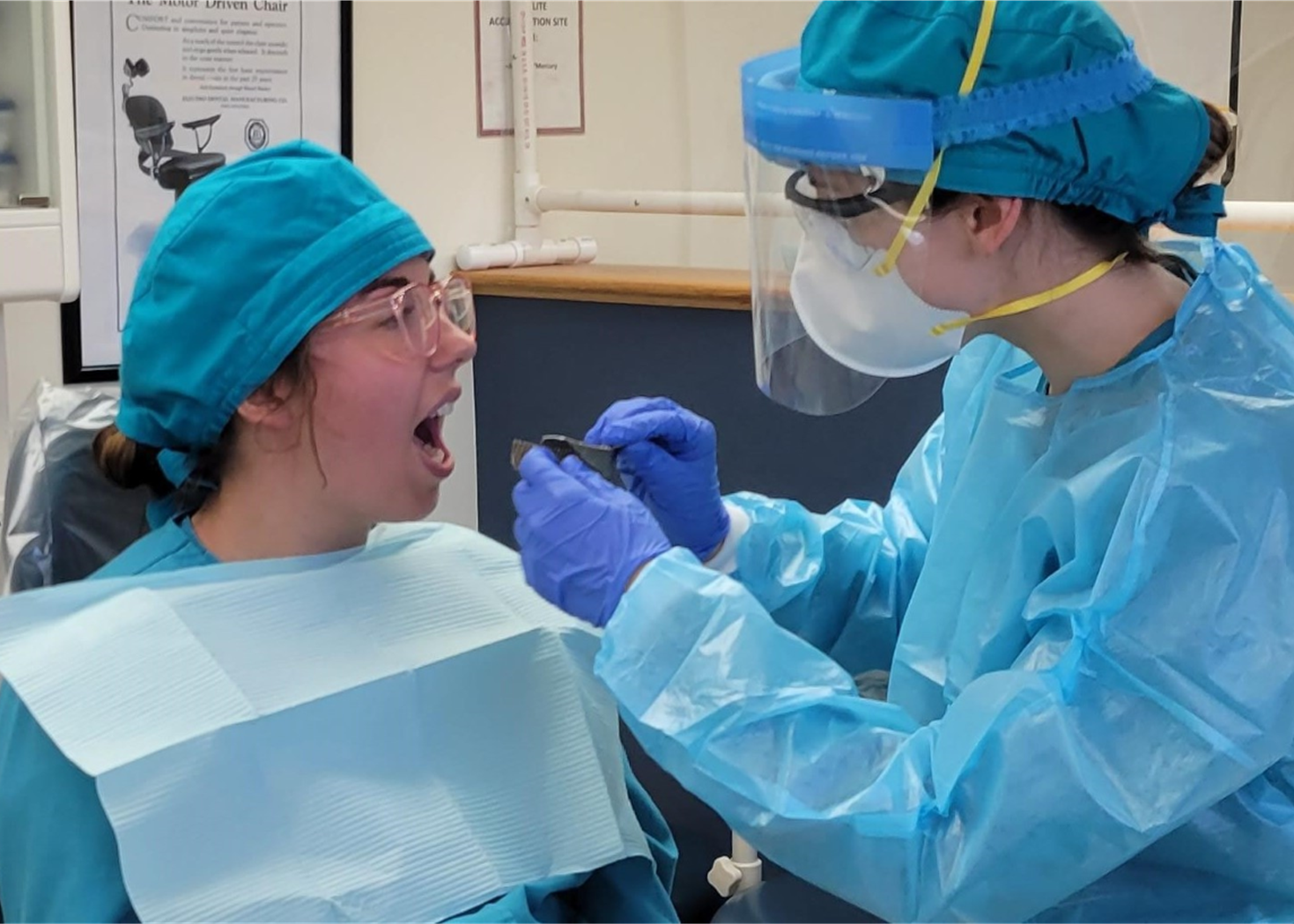 NHTI's Dental Assisting certificate program is the only accredited Dental Assisting program in New Hampshire. Upon completion of the program, you are eligible to sit for the Dental Assisting National Board (DANB) national certification exam.
Dental assistants greatly increase the efficiency of the dentist in the delivery of quality oral healthcare. In conjunction with the NHTI's mission statement, our Dental Assisting program strives to provide a learning environment in which each dental assisting student is instilled with the knowledge, skills, and values to offer the most comprehensive educational, preventive, and therapeutic services reflecting the competencies vital to the profession of dental assisting. This program's goals include:
To prepare students for all aspects of employment in a dental assisting career, including traditional and non-traditional settings, working with diverse multicultural populations.
To encourage students in the development of leadership skills to facilitate the advancement of dental assisting in all areas of the dental assisting profession.
To promote self-esteem to encourage critical thinking within a quality curriculum and in the field.
To entice students to pursue critical continuing education courses, advanced degree, and value lifelong learning.
To guide students in the discovery of global perspectives so as to adapt to the changing social needs of self, the
patient population, and society in general.
To aid students in the formation of collaborative skills to work within a multi-disciplined health field and an ever-changing profession.
To instill in students, the value of community education and community service.
This program is financial aid-eligible. 
Do you have questions? Contact Kelly O'Brien, program coordinator, at kobrien@ccsnh.edu or 603-603-271-6484 ext. 4123.
Admission Requirements
Apply for this program today on our Admissions page with step-by-step instructions and enrollment pathways build just for you!
The program has both full-time and part-time options that start in the Fall term.  The deadline for Fall 2023 admission has been extended to July 28, 2023.  For the 2024 academic year, the deadline is March 1, 2024.
Preference will be given to applicants whose applications are complete and received by the Admissions Office by the deadline. Applications received after the deadline will only be considered if space remains in the program after qualified candidates have been reviewed. Applicants are required to have:
A course in high school Biology or Chemistry with a C or higher
An informational group interview with the Dental Admissions Committee; qualified candidates are contacted after the deadline to arrange interview
Observation of professional practices in a dental office for a period of not less than 20 hours; students must submit the completed Dental Assisting Observation Form to the Admissions Office by the application deadline. The completed observation is valid for 2 years only. Current dental office employees are not required to complete the hours of observation but are required to complete and submit the observation form.
See Health, Character, and Technical Standards (below) for additional requirements.
Students who wish to enter this program and are currently enrolled in another NHTI program must complete and submit the Change of Program form to the Admissions Office prior to the application deadline. 
Career Information
Dental assistants are in high demand in N.H., with great part– and full-time job opportunities. This program offers students the opportunity to become involved in a healthcare profession as a member of the dental team in private dental offices, public dental clinics, and institutions. NHTI graduates are qualified to take the Certification for Dental Assistants national exam. Compared to non-accredited programs in the state, our graduates are legal to take x-rays, place sealants, take impressions, remove sutures and place and remove periodontal packs, do coronal polishing, apply fluoride treatments, monitor nitrous oxide, expanded duties orthodontics, make provisional crowns, place and remove rubber dams, and apply desensitizing right after completion of the program. Graduates can also further their career in NHTI's Expanded Functions Dental Auxiliary certificate program.
The salary of a dental assistant depends on the responsibilities associated with the specific position and the geographic location of employment. Dental assistants earn salaries equal to other healthcare personnel with similar training and experience such as medical assistants, physical therapy assistants, occupational therapy assistants, veterinary technicians, and pharmacy assistants.
Additional Information
Student Outcomes
| | | | |
| --- | --- | --- | --- |
| Year | # Students | DANB Radiation Health and Safety Exam (NHTI Results*) | DANB Radiation Health and Safety Exam (National Results*) |
| 2023 | 11 | 100% | 69% |
| 2022 | 19 | 100% | 69% |
| 2021 | 22 | 77% | 63% |
| 2020 | 18 | 89% | 69% |
| 2019 | 20 | 85% | 69% |
*First attempt pass rate
Accreditation
NHTI's Dental Assisting program is accredited by the Commission on Dental Accreditation and has been granted the accreditation status of "approval without reporting requirements." The Commission is a specialized accrediting body recognized by the U.S. Department of Education. The Commission on Dental Accreditation can be contacted at 312-440-4653 or at 211 East Chicago Avenue, Chicago, IL 60611. The commission's web address is http://www.ada.org/en/coda.
Externships
NHTI has developed practicum opportunities to foster hands-on-learning while receiving credit. Requirements are met by assisting in dental offices. Students in internship, externship, practicum, service learning, and clinical experience opportunities must demonstrate sufficient emotional stability to withstand the stresses that characterize the dental professionals' responsibilities with patient/agency clients. They will exercise sound judgment, accept direction and guidance from a supervisor or faculty member, and establish rapport and maintain sensitive interpersonal relationships and confidentiality on all levels.
Health, Character, and Technical Standards
Students must be aware of the abilities and characteristics necessary to complete the Dental Assisting program. The program adheres to the NHTI Statement of Nondiscrimination. Reasonable accommodations for students with disabilities are made to the extent that there is no fundamental alteration to curriculum, course objectives, or health, character, and technical standards of the program. Failure to consistently exhibit the technical standards for a career in dental assisting may result in dismissal from the program. Individuals must be able to satisfactorily accomplish/possess the following:
Intellectual abilities requiring reason, analysis, problem solving, critical thinking, and self-evaluation skills. Ability to learn, integrate, analyze, and synthesize data. Comprehension of 3D and spatial relationships is necessary. Consistent, accurate, and quick integration of information is required, especially in emergency situations.
Somatic sensation and functional use of all senses. Students must be able to observe demonstrations, see fine detail, focus at several distances, and be able to discern variations in color, shape, and texture. They must possess sufficient hearing to assess patient needs and communicate effectively. They must have sufficient eyesight to observe patients, operate dental equipment, and work with small measurements and instruments in preparing and manipulating dental materials.
Ability to sit for a sustained length of time with frequent reaching and turning.
Sufficient fine and gross motor function to safely perform intraoral instrumentation and the manipulation of small objects, equipment, tools, and materials. Students must be able to perform functions such as basic life support, transfer and position of patients, and operation around the patient and dental chair. They must be able to operate both foot and hand controls.
Effective communication with sufficient command of the English language to retrieve information from textbooks, lectures, exams, etc. and communicate in verbal, nonverbal, and written form.
Emotional health required to exercise good judgment and complete all responsibilities. Professionalism, compassion, integrity, empathy, and respect for patients are all necessary. Students must be able to endure physically taxing workloads and function under stress. They must accept constructive criticism and respond appropriately by modifying behavior.
Program Learning Outcomes
This program strives to provide a learning environment in which each dental assisting student is instilled with the knowledge, skills, and values to offer the most comprehensive educational, preventive, and therapeutic services reflecting the competencies vital to the profession of dental assisting. The program prepares students to provide patient care in a variety of clinical settings and to be active members of a dental healthcare team. Students who complete the Dental Assisting program will be able to:
Perform basic chairside procedures in general or specialty practice.
Perform basic clinical/laboratory support procedures.
Practice universal precautions and safety standards consistent with OSHA and CDC guidelines.
Perform emergency procedures.
Provide oral health instruction.
Perform basic business office procedures.
Perform advanced intraoral functions that may be delegated to a dental assistant in the state of N.H.
Exhibit professionalism and communicate effectively with patients and coworkers.
Use of Computers in the Allied Dental Education Programs
Students use computers throughout the program. Faculty instructs them in the application of dental software and use of conventional software to generate papers, oral presentations, and spreadsheets. It is strongly recommended students have a good working knowledge of computers before entering the program. Computer literacy courses, such as IST 102C, are available through the college.